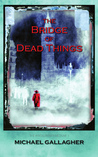 The Bridge of Dead Things (The Involuntary Medium, #1)
by
Michael Gallagher
Current average rating:
4.15 of 5 stars
"I went out for beer and when I got back I found a hundred new notifications waiting for me," as one account put it. If you've ever been tagged in a popular, ongoing conversation with 36 others taking part, you will know how overwhelming this can feel. The Friday follow (#FF) trains on which the writing community thrives are a prime example of this. There's not much you can do once the notifications are there, but you can certainly nip it in the bud—by muting the conversation.
Read on…
This month's giveaway is
a free download of The Bridge of Dead Things
. Murky Victorian London. When 13-year-old Lizzie starts having fits, the people around her begin to realize that she may have unusual powers. Offer ends on March 31st 2019.
"I have got to say, these books are unlike any other I have read...almost impossible to put down."—Helene Gårdsvold, Amazon.com Reviewer (5 stars)
Happy investigating!
Michael