Two weeks ago I received an email from Smashwords, the smaller of the two book distributors I use. They were launching a sale called Authors Give Back in response to the Covid-19 pandemic, which aimed to help readers in lock down.
"THIS IS NO ORDINARY SALE: Readers everywhere are going through great difficulty. There's the difficulty of social isolation as readers shelter in place at home. There's the real concern that one's family or friends will be harmed by Covid-19. There's the economic hardship and uncertainty that touches everyone. As you promote your participation in this special one-time sale, please do so with heart, compassion and sensitivity. Before promoting your participation or a particular title, ask yourself, 'How can my book(s) make a person's day brighter?'"
The premise was simple. Participating authors could offer discounts of 30%, 60%, or 100% on one or more of their books. I chose to enrol all six of my novels and to give them away for free. Why? I genuinely wanted to do something to help people in this time of crisis, and here—miraculously—was something I could do with ease. But scratch below the surface and you will see my decision makes good business sense too, especially for indie authors.
One of the most difficult things for an indie author to do is sell their books, even if they hit "the sweet spot" for pricing, even if their readers adore them. Nor does the situation improve if you make them free. Who trusts free books? Surely they can't be worth much if they're free? But a promotion like this changes all that, and my sales have rocketed accordingly. They may not make me any money, but they bring my books to a whole new audience, and one which in the future might choose to review them. You can't buy publicity that good.
Another plus is that Smashwords counts every book I give away as a sale. With each sale I make I become
that much more
discoverable on their website. Here's the thing. I first started publishing in 2013, and all of my novels can still be found there by a casual browser. There will be books that were published only last year through lack of sales will have virtually disappeared. So what's on offer?
Gooseberry (Send for Octavius Guy, #1)
by
Michael Gallagher
Current average rating:
4.22 of 5 stars
Fourteen-year-old Gooseberry once helped solve the mystery of the Moonstone. Now fate is about to throw him a new case, sending him sleuthing round the Victorian capital once more.
"Sometimes you see a book and just know you're going to love it…An absolute treat for fans of Collins' novel and a successful novel in its own right."—Emma Hamilton
Octopus (Send for Octavius Guy, #2)
by
Michael Gallagher
Current average rating:
4.22 of 5 stars
When the leading actress dies in mysterious circumstances during a performance of The Duchess of Malfi, Gooseberry feels duty-bound to investigate. It is, after all, a great deal more exciting than tracking down rich old ladies' cats!
"Here is a sensational historical fiction who-dunnit that gives nothing away until the very end. To me, it reads like an old time radio show. It leaves you breathless."—Connie A.
Big Bona Ogles, Boy! (Send for Octavius Guy, #3)
by
Michael Gallagher
Current average rating:
4.71 of 5 stars
This time young Gooseberry investigates a shady Spiritualist medium only to discover that somebody wants her dead.
"This is an absolute gem of a series and quite the most enjoyable set of books I have read in a very long time."—Anita Dow
Oh, No, Octavius! (Send for Octavius Guy, #4)
by
Michael Gallagher
Current average rating:
4.67 of 5 stars
The well-heeled residents of Highbury seek Gooseberry's help to oust their local rector from his post, little knowing that one of their number has a far more permanent removal in mind.
"I've said it before and I'm saying it again—Michael Gallagher is a master storyteller."—Al Muckersie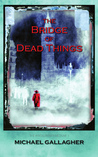 The Bridge of Dead Things (The Involuntary Medium, #1)
by
Michael Gallagher
Current average rating:
4.20 of 5 stars
Murky Victorian London. Lizzie Blaylock is about to discover an unusual talent…one that the people around her are keen to exploit.
"I read most of the book in one night simply because I couldn't put it down and when I finally did it was five a.m. Wonderfully haunting and exciting it receives five stars from me."—Brittney L. Divine author
The Scarab Heart (The Involuntary Medium, #2)
by
Michael Gallagher
Current average rating:
4.46 of 5 stars
The Valley of the Kings, 1885. Lizzie is about to meet a young woman named Merit, and her life will never be the same again.
"I never thought I would enjoy historical mysteries until I got my hands on this book! Deserving of more than 5 stars, in my humble opinion!"—A. L. Faulkenberry
The sale ends on April 20, 2020, but I will make sure there are coupons in place so they'll remain free until the end of this lock down. This will be my last monthly post until then. Stay safe. Stay distanced. Stay well.
Happy investigating!
Michael
Find me on my website
Michael Gallagher Writes
and on
Facebook
, and make sure to follow me on Twitter
@seventh7rainbow
.