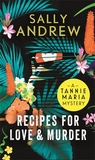 Recipes for Love and Murder
by
Sally Andrew
My rating:
5 of 5 stars
OMG. What's not to like? This reads like an Alexander McCall Smith novel realized with a little less humour perhaps, but with an actual murder to solve and an amateur detective, in this case a cookery writer who has been forced to swap her column for an advice-for-the-lovelorn in a small-town newspaper that is syndicated throughout a stretch of rural South Africa.
Our heroine, Tannie ("Aunty") Maria, divides her time between chasing up culinary and housekeeping clues that the police fail to recognize as being significant and cooking roast lamb, curries, and various cakes to nourish her friends, plus a never-ending supply of cereal bars she calls rusks. As with most generous books, you'll find many of these recipes printed in the back matter.
Andrew throws in Afrikaans terms and colloquial slang freely, but I didn't get bogged down in them all. Anything with -
berg
on the end is a mountain, anything with -
bos
is a bush, and anything with -
bok
or -
bokkie
is some kind of buck.
Blerrie
, as you'll quickly discern, is probably bloody. Sometimes she helps by explaining these things; sometimes she doesn't. It doesn't matter, though—it all adds to the book's local colour. If the statistics she quotes about wife beating and the incidence of murder in South Africa are true, then they are horrifying.
A thoroughly enjoyable read. Take Tannie Maria's advice and fill your hearts with love.
But that's just my own humble opinion…what do you think? Do let me know!
View all my reviews